Current Government Employment Statistics – June 2015
The latest employments statistics report issued by the U.S. Bureau of Labor Statistics, showed government employment remained unchanged in June 2015, with little change at the federal, state, and local levels. Government employment has changed little over the past 12 months, with 55,000 government jobs added or an increase of 0.3 percent. In contrast, private sector employment rose by 2.5 percent during the same period.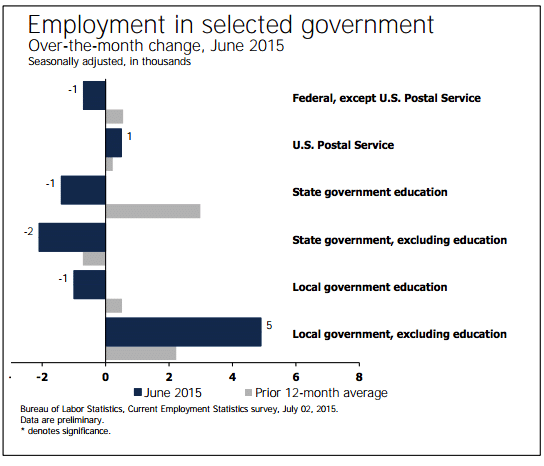 Looking at overall employment activity, nonfarm employment increased by 223,000 in June. Employment gains occurred in professional and business services, healthcare, retail trade, financial activities, and transportation and warehousing.
Employment has increased by an average 221,000 per month over the past 3 months. Average hourly earnings for all employees on private, nonfarm payrolls were unchanged in June, following a 6-cent gain in May. Hourly earnings were up 2.0 percent over the year. In
June, average weekly hours of all employees, at 34.5 hours, were unchanged.