State and Local Government Hiring Picks Up
For the second year in a row, state and local governments are reporting an increase in hiring. Pressure on benefits continues, with employees taking on greater shares of health care costs and contributions to pensions. As a large portion of the workforce becomes eligible for retirement, there is a greater sense of urgency about recruitment, retention, and succession planning.
"State and Local Government Workforce:  2015 Trends" [pdf] is an annual survey conducted in March/April 2015 by the Center for State and Local Government Excellence, the International Public Management Association for Human Resources, and National Association of State Personnel Executives, of human resource professionals.
Seventy-three (73) percent of respondents reported hiring employees in the past year, with 54 percent hiring more than they did in 2013.
The pace of retirements quickened: 47 percent reported higher levels of retirement in 2014 than 2013. As one respondent wrote, "Between now and 2020, we are looking at 40% of the workforce being able to retire."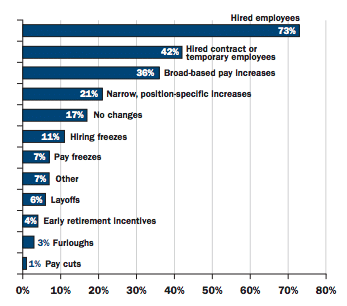 Additional findings from the survey included identifying hard to fill positions like accountants, building officials, corrections officers, dispatchers, engineers, finance, firefighters / EMS, information technology professionals, mid to upper management, mental health professionals, nurses, police officers,  project managers, public works, seasonal employees, skilled trades, social workers, and water treatment occupations. Due to the talent crunch, governments are hiring more temporary or contract employees with 47 percent reported doing so in 2014 compared with 33 percent in 2013.
"The survey results confirm that the economy continuing to improve. State and local governments reported increases in hiring for the second year in a row, although most government workforces are still smaller than they were in 2008," said Neil Reichenberg, executive director, IPMA-HR. "The environment remains challenging for state and local governments due to a continued focus on reducing costs through changes to benefits and an increase in retirements as a large percentage of the workforce becomes eligible for retirement. This leads to a growing sense of urgency about recruitment, retention, and workforce/succession planning."