Federal Government Workforce Reform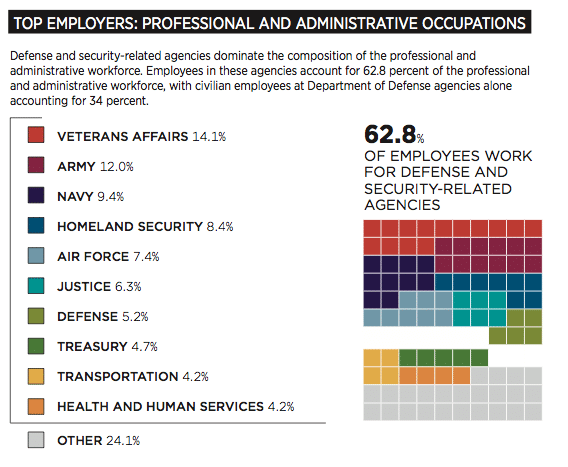 The nonprofit Partnership for Public Service today released a comprehensive report calling for major reforms to the federal government's decades-old civil service system, laying out a plan to modernize areas that include the outdated pay and hiring policies.
"Our nation's civil service system is a relic of a bygone era," said Max Stier, president and CEO of the Partnership for Public Service. "Our nation's leadership must make it a priority to create a civil service system that our public servants deserve and that will produce the results our country needs."
"Building the Enterprise: A New Civil Service Framework" by the Partnership for Public Service and Booz Allen Hamilton, calls the federal personnel system, the foundation for effective government, obsolete and in crisis, and an obstacle rather than an aid in attracting, hiring, retaining and developing top talent.
"Good government starts with good people, and our nation is fortunate to count some of the brightest, most dedicated professionals among its ranks. But they too often succeed in spite of the current system, not because of it," Stier said.
The report calls for overhauling the entire civil service system, including pay, performance management, hiring, job classification, accountability and workplace justice, and the Senior Executive Service, the nation's career leadership corps.
Designed more than 60 years ago, the system was built for a mostly clerical federal workforce that required few specialized skills, and at a time when government's role in society was smaller and less complicated, the report said. The demands on government have changed, the world and the nature of work have changed, but the personnel system has not, according to the report.
Over the years, the once unified civil system has become splintered, with some agencies cutting their own deals with Congress to receive special hiring authorities and higher pay rates, while other agencies continue to operate under the more rigid and outdated General Schedule pay and classification system. The result is a patchwork of "have" versus "have not" organizations, resulting in government not only competing with the private sector for top talent, but with itself.
The American public expects much from its government. On a routine basis, federal employees must handle a wide array of critical matters while also tackling long-term challenges like finding cures for diseases and providing the building blocks for economic growth, and guarding against and responding to the unthinkable whether it's a terrorist attack, devastating hurricane or financial collapse. But the ability of federal workers to accomplish their missions is at risk because of the obstacles created by government's outmoded personnel policies and practices, the report said.
The report's recommendations for reshaping the civil service include:
Building a market-sensitive labor system by occupation for white-collar and administrative positions that would establish pay levels roughly comparable to that of major private-sector employers for similar jobs.
Creating a unified personnel system that operates under a set of common core principles and policies to level the playing field across the federal landscape in the competition for talent.
Improving the performance management system by ensuring that supervisors and managers have the skills necessary for it to work, and making it consequential by awarding pay raises only to those employees and managers who perform above expectations, and no pay increases to those whose performance is unsatisfactory.
Establishing a simplified, streamlined job classification system for professional and administrative positions that condenses the General Schedule's 15 grade levels (GS-5 through GS-15) into five work levels.
Giving agencies greater flexibility in hiring without compromising such core principles as veterans' preference, merit-based selection, diversity and equal opportunity, while employing new assessment tools capable of identifying the best qualified from among large numbers of candidates.
Ensuring greater accountability and speedier justice for employees disciplined or fired for poor performance or misconduct by consolidating the multiple complaints and appeals channels into a one-stop process managed by a reconstituted Merit Systems Protection Board.
Creating a four-tier senior executive service that would better prepare accomplished career civil servants for high-level agency positions and for managing complex, interagency, intergovernmental initiatives.
Filling key government management positions with senior career executives instead of political appointees to provide a long-term perspective and leadership continuity, and reducing the overall number of political appointees.